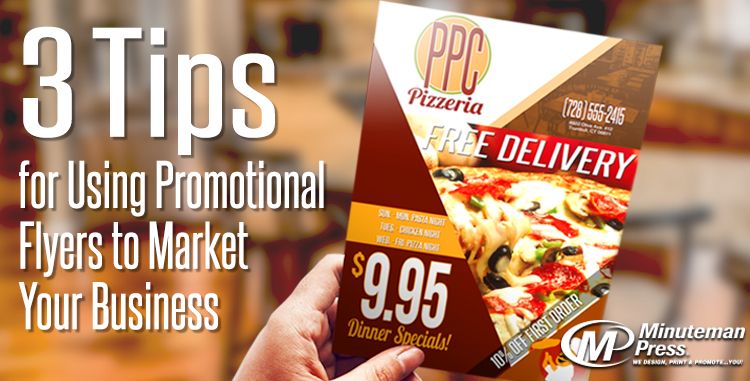 Promotional flyers are cost-effective, high impact marketing essentials that help small businesses quickly and easily promote local events, products and services. A high quality flyer goes a long way in attracting a captive audience, which can only help you get people in the door.
Here are 3 tips for using promotional flyers to market your business:
1. Make sure your flyer has a visually appealing design. The best way to make sure your flyers get noticed is to make sure they are professionally designed. By working with a local printing and marketing service provider like Minuteman Press, you can make sure your flyer has the perfect layout, colors, and messaging.
2. GO BIG with TEXT and grab people's attention. An effective flyer is clear and easy to read. You want to make sure the most important part of your message stands out and is legible from a few feet away. Whether you and your team are handing out flyers or they are being displayed around town, you want to make sure the key information is easy to see and doesn't get glossed over. Of course, you also want to have a strong call to action that encourages a robust response.
3. Create an effective plan to get promotional flyers in the hands of your target audience. Finding the right audience for your flyers is important in maximizing the return on investment. First, it makes sense to distribute flyers close to where your business is located as driving that hyperlocal traffic is crucial for any small business. In addition, you can send flyers via direct mail and reach into the homes of your potential customers.
No matter how you decide to distribute your flyers, Minuteman Press St Ann printing and marketing center is able to help design, print, and promote…YOU!
Contact us today to start producing high quality flyers and getting them in the hands of your customers!